Regular price
Sale price
£149.99
Unit price
per
Sale
Sold out
The Black & Decker Mega Construction Centre from Smoby
It's time to build something incredible! Enjoy a real construction shop experience with the Black & Decker Mega Construction Centre from Smoby, a versatile play area which features a mechanical workbench, plumbing and painting workspace and a carpentry counter. The Mega Centre has been brought to life in partnership with Black + Decker for a kid's workbench that looks just like the real thing! It's guaranteed to provide hours of fun with various tools and accessories to keep them engaged.  Developed by French toy manufacturer Smoby, this cool workstation is sure to please independent kids looking to create their own fully functioning construction shop at home.

Construct Your Own Imaginative Stories
The Smoby Mega Centre helps kids learn all about construction, building and DIY! This incredibly versatile play workbench combines three fun roleplay activities in one. They can choose what jobs they want to complete each day whilst practising fine motor skills using the different tools and building communication skills by playing and sharing with friends. The central construction station features a mini chalkboard, a tool board, storage trays, vice grip and a worktop with pushing nail function. The plumbing and paint area features a sink, storage, and piping circuit. The carpentry corner features a circular saw which can be activated by pushing the lever. Your child can play the role of carpenter, mechanic, painter or plumber, creating endless adventures with their friends.

Bring Playtime To Life With 19 Accessories
The Black & Decker construction workbench offers endless possibilities that enable imaginative kids to discover the exciting world of being a mechanic, plumber, painter, or carpenter. With real working features and moving parts, this hands-on construction playset is perfect for learning all about construction and how things are made. Discover over 15 accessories including six tools (saw, hammer, simple spanner, screwdriver, pliers, socket wrench) plus screws, buts, nails, construction manual, mechanical drill, paint roller, circular saw, piping circuits and more! The Smoby construction workbench has all the accessories they will need for an immersive and enriching playtime experience.

High-Quality, Child-Friendly Design
The Smoby Black & Decker Mega Construction Centre has been constructed with high-quality materials, resulting in a sturdy that ensures your child can safely enjoy the mechanical shop for hours on end. The many storage areas and compartments allow your child to keep all their tools and accessories safe and stored away neatly when not in use, whilst the foldable mechanism ensures you can easily store the Construction Workshop when not in use. Manufactured in France, the Mega Centre has a stylish design with Black & Decker tools and colours for an authentic toy. Produced using the latest production methods, the Black & Decker Mega Centre is a durable and long-lasting playtime accessory suitable for children over the age of 3.
Not suitable for children under the age of 3 due to the inclusion of small parts.

Share
Delivery

Free UK Delivery

Please allow 3-5 Days for Delivery
Key Information

• A foldable Mega Construction Centre playset from Smoby and Black + Decker
• Black + Decker authentic appearance and design
• The construction shop features three distinct play areas; a central workbench for mechanics, a painting and plumbing workstation and a carpentry workstation
• The central mechanical area features a worktop with pushing nail function, vice grip, storage tray, mechanical ruler, backboard for hanging tools, mini chalkboard and construction manual
• The carpentry workstation features a circular saw with a mechanical lever function, handsaw, storage basket and worktop
• Various shelving and countertop areas for displaying products
• The painting and plumbing workstation features a sink, paint tray, a set of plumbing elements which can be used to assemble a real piping circuit and a hand soap bottle
• Includes various accessories: saw, hammer, simple spanner, screwdriver, pliers, socket wrench, screws, nuts, nails, a set of construction manuals, mechanical drill, a paint roller, foaming hand soap, various storage compartments, piping elements, circular saw and backboard
• Made in France with meticulous care and quality
• Available in grey and orange design with Black + Decker branding

The Brand

As France's best known toy manufacturer, Smoby Toys knows just what makes children happy – and keeps parents satisfied: innovative toys that help youngsters to discover and develop their own skills, that are bright and cheerful and full of ideas.

We love children, so we want to protect them. That's why age-appropriate, safe toys are so important to us. Smoby Toys is an expert in safety-tested toys at the cutting edge of educational research from the baby stage through to primary school age. But the most important thing of all: with Smoby products, playing is simply great fun!

View full details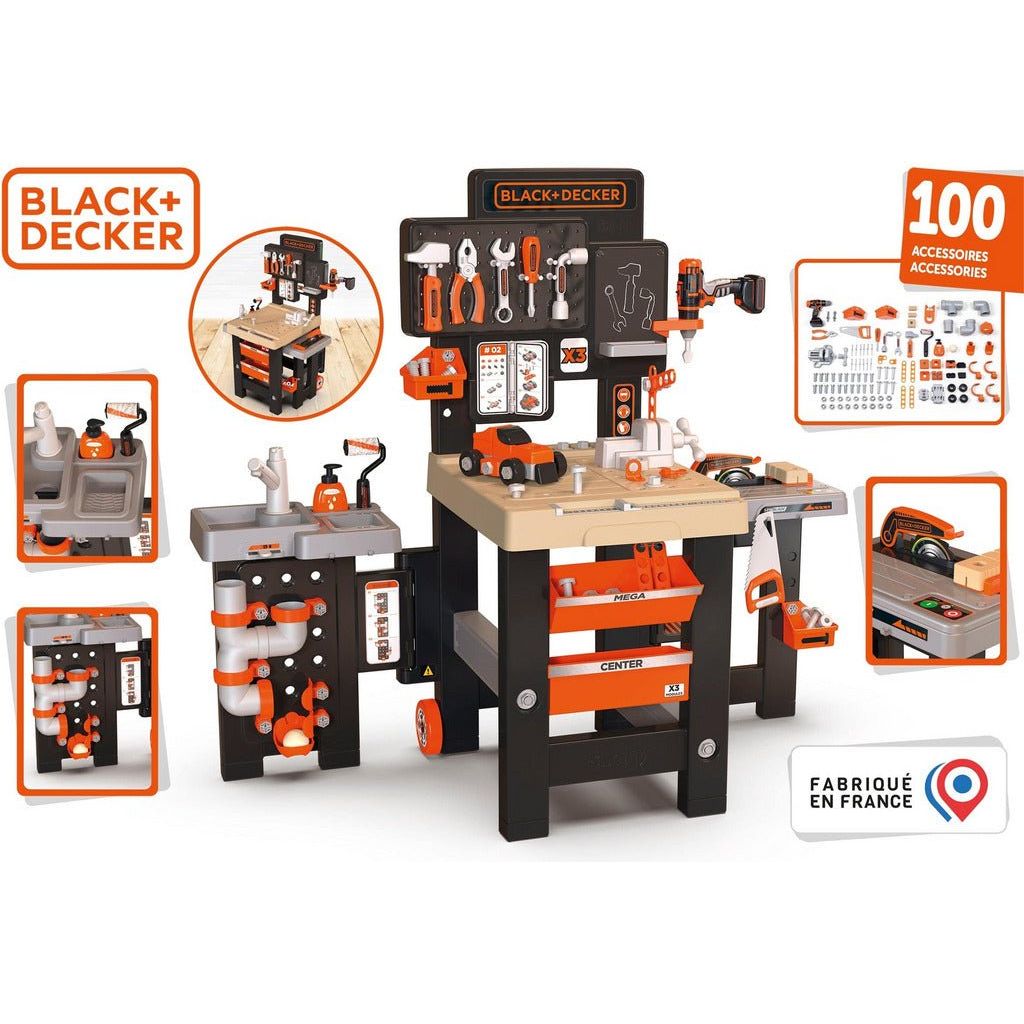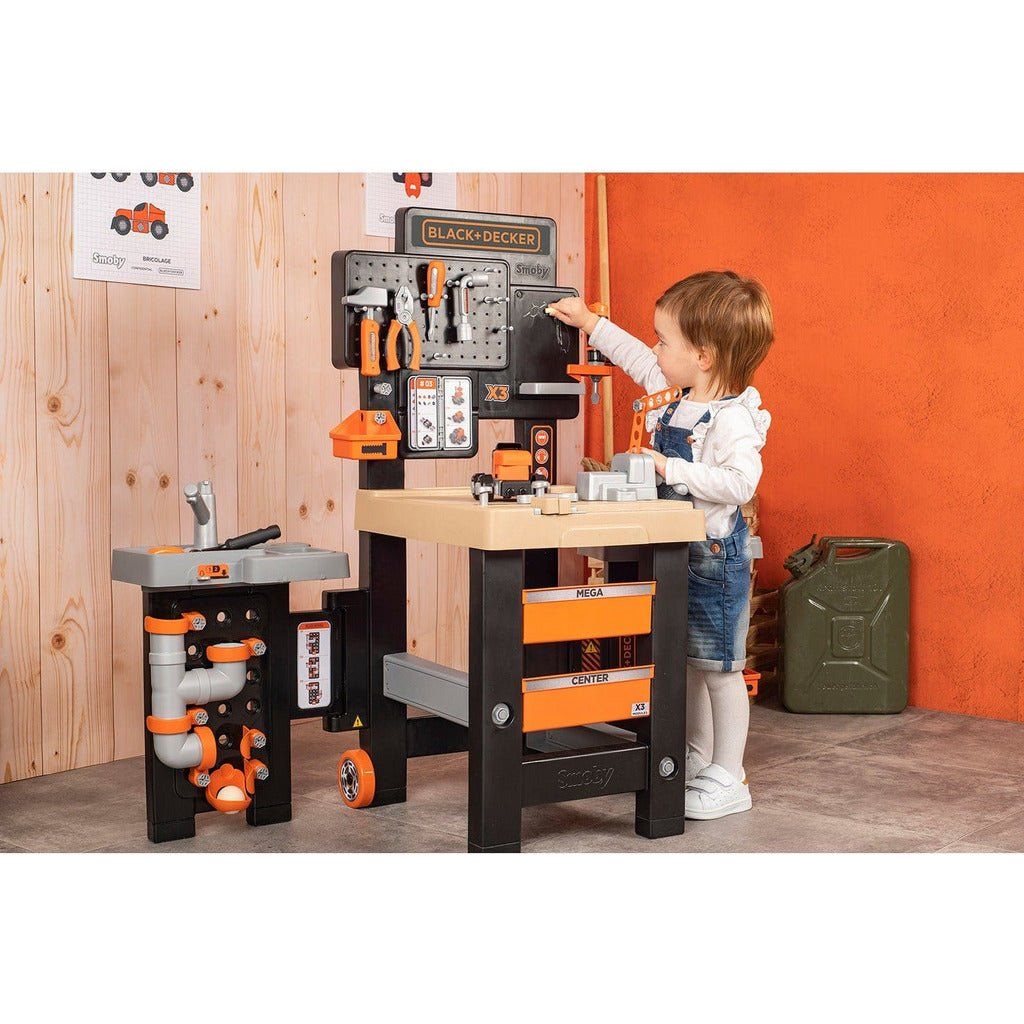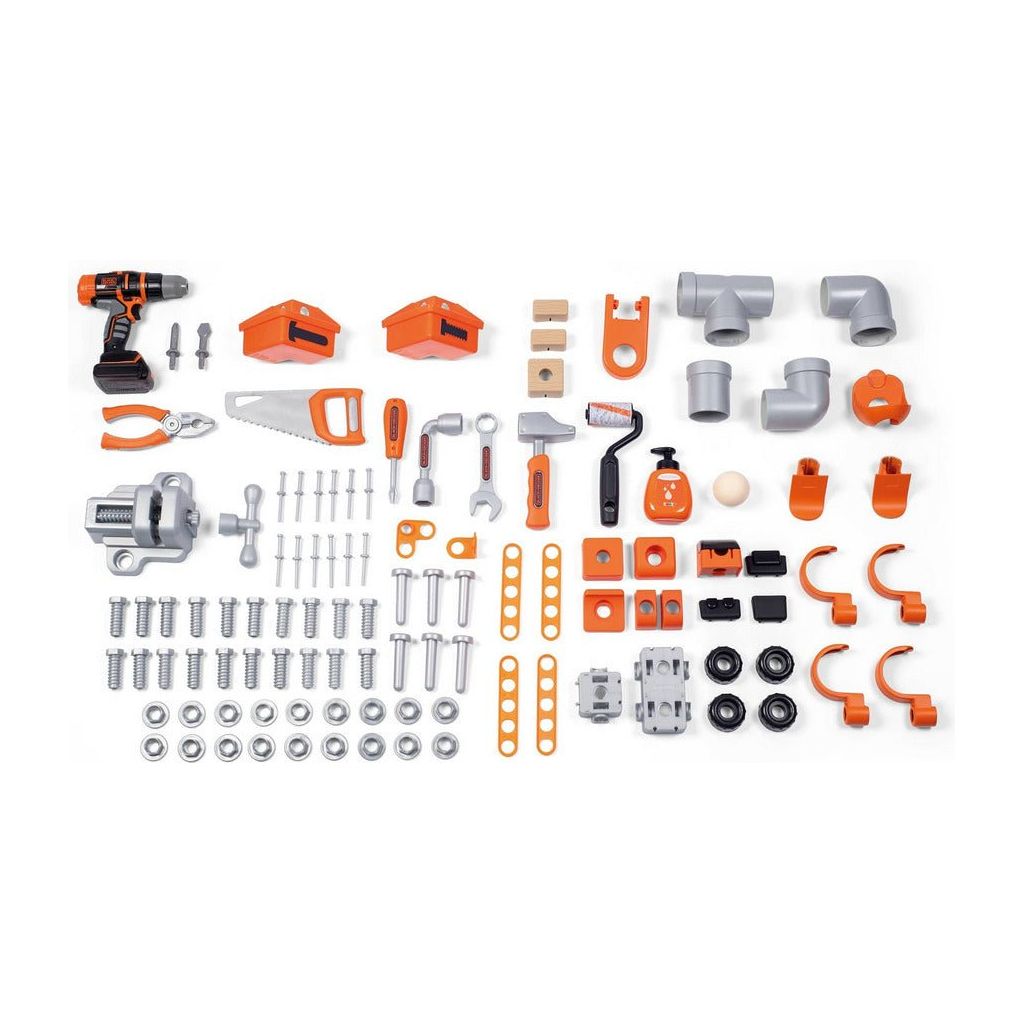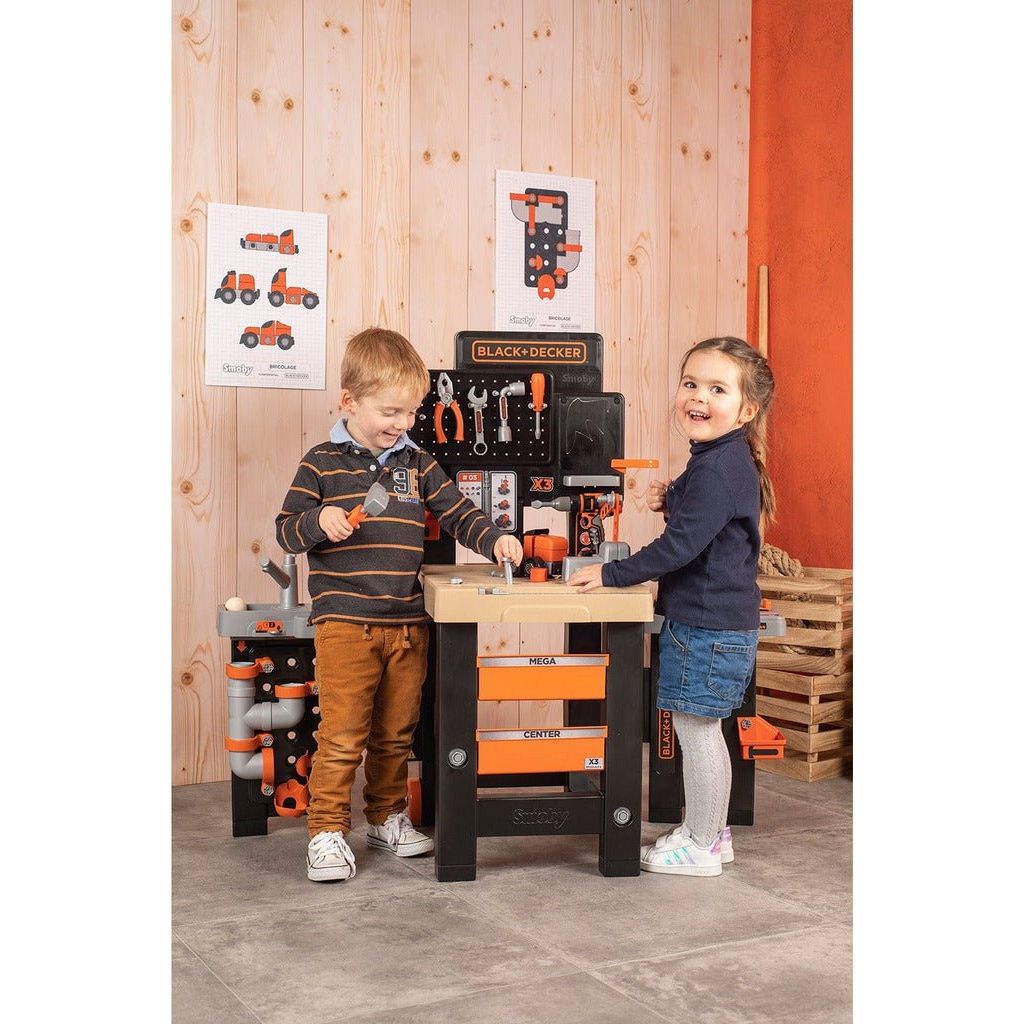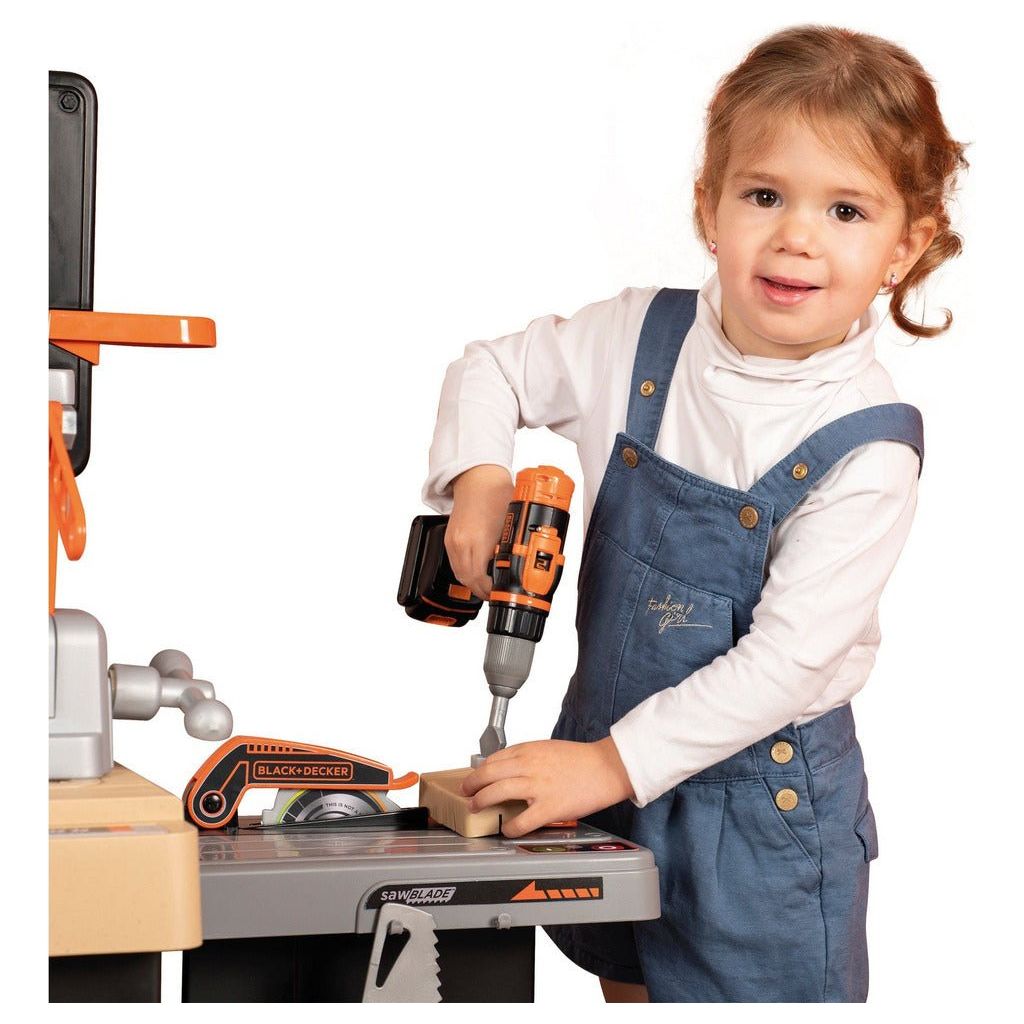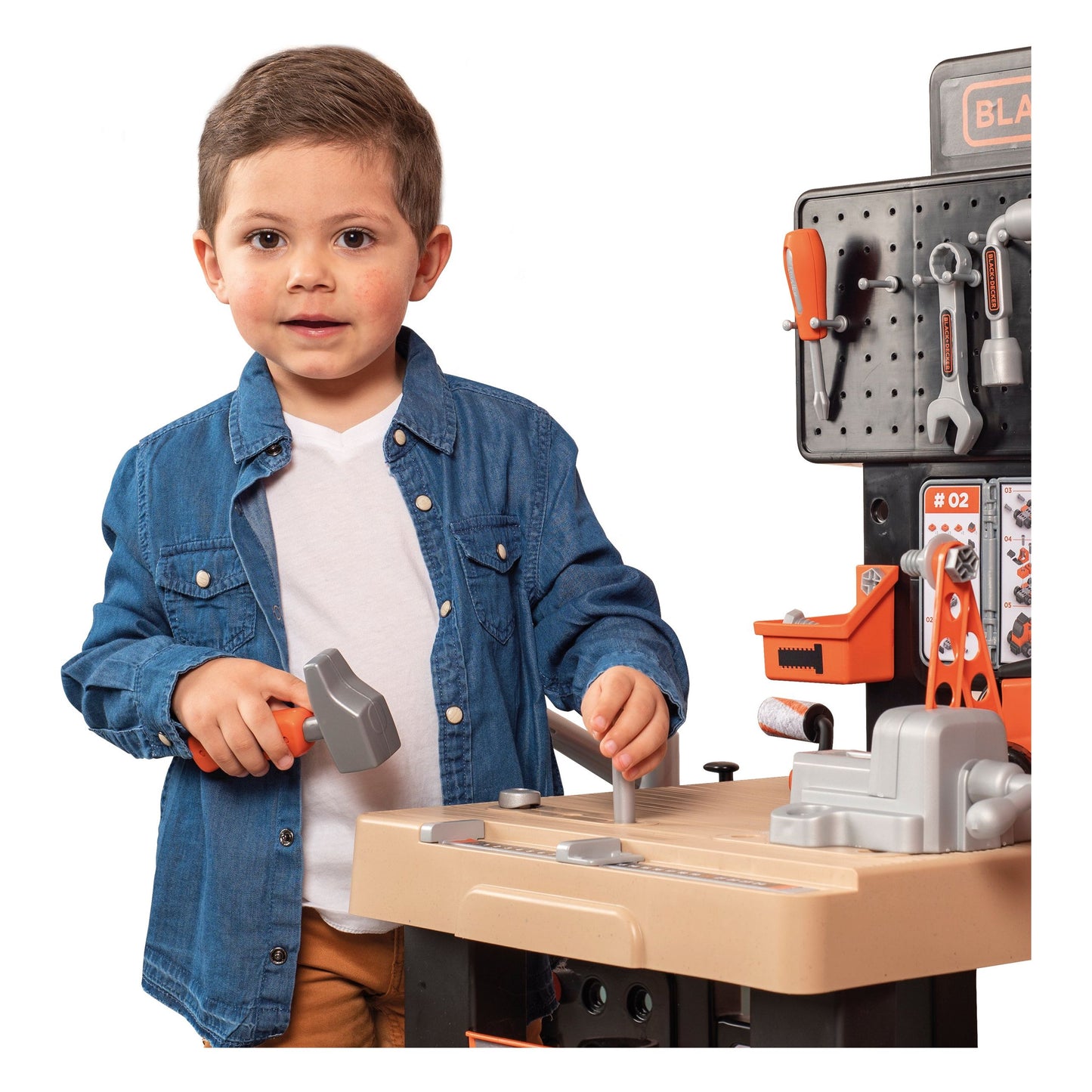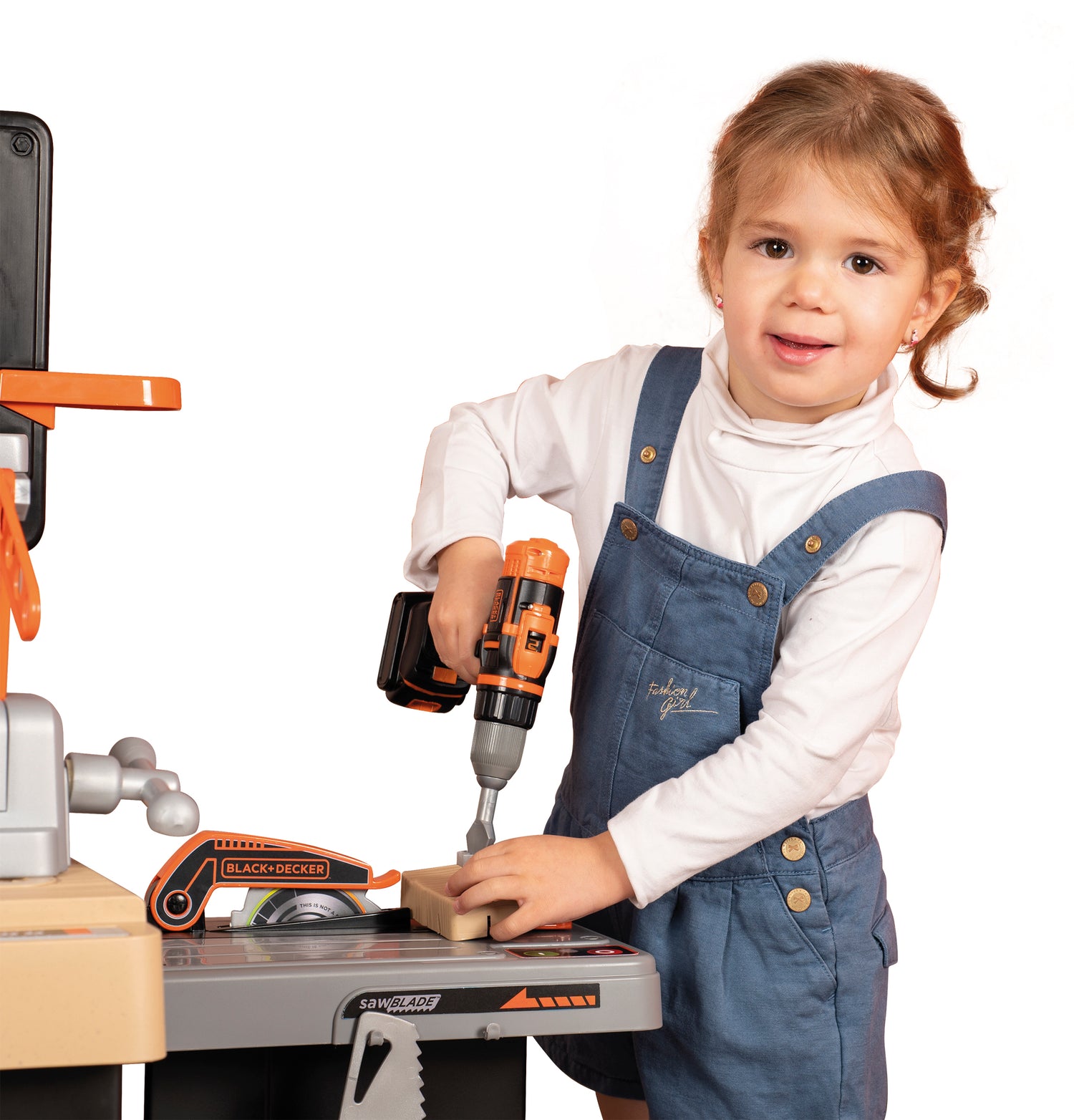 Role Play develops their immagination...
Role Play toys are a wonderful way for even the youngest of children to experience the world... Check out our gorgeous range of Role Play toys to get your little ones immagination running wild!
Shop Role Play Toys